Datasheet
Version
VE (Versió original en castellà)
Quin tipus d'identitat estem preservant quan recorrem els espais i els cossos del nostre voltant?
Què en guardem d'aquests i de la nostra pròpia naturalesa en aquest recorregut?
La pel·lícula THE GEOMETRY BETWEEN ME AND WHAT I SEE retrata un ésser humà sense gènere que es relaciona amb el seu entorn a través del sentit del tacte per identificar una geometria que permet que les empremtes del nostre passat i present es relacionin com no havíem vist mai.
Jaime Refoyo investiga l'evidència d'un llenguatge geomètric que deixa l'empremta impresa del cos en el terra quan es relaciona amb altres cossos a través del seu moviment natural.
Un estudi al qual Jaime ha anomenat Geografia del Pensament i que també dona nom a un projecte que consisteix en la realització de tres accions durant el mes de novembre al voltant del cos, la imatge i la paraula.
Aquestes accions tindran lloc al Mercat de les Flors, la Filmoteca de Catalunya i el CCCB respectivament. Un projecte que té com a finalitat crear un diàleg entre les diferents pràctiques de la institució cultural i les diferents comunitats que conformen el teixit social de la ciutat.
With the collaboration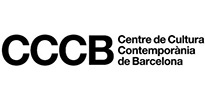 Programmes that have programed this Film
Sessions
Tuesday 27 April 2021 · 19:30&nbsp&nbspSessió amb presentació i col·loqui posterior
Sessions
Tuesday 29 November 2022 · 17:00&nbsp&nbspPresentació a càrrec de Jaime Refoyo